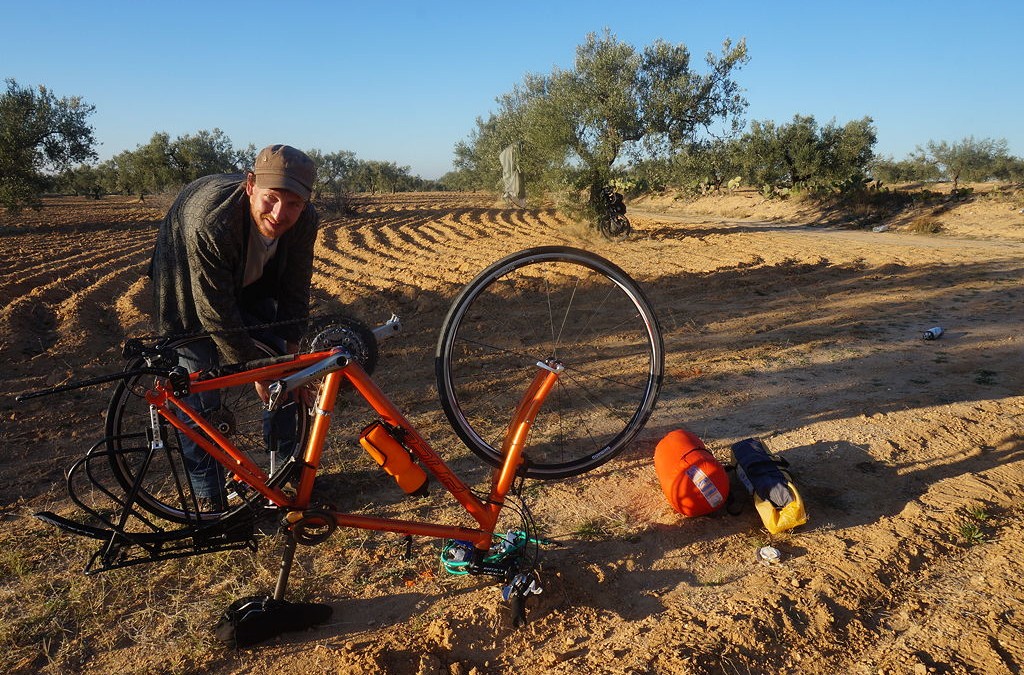 I'm going with bullet points.
The weather got toasty, leading to HS saying how we were finally in Africa – because Africa is always hot apparently.
We stopped in a town for lunch, went to a stand and got some small bread things as it was all that was on the menu. The owner did however mention if we wanted, we could go into the market, buy some things and he'd cook them up for us. We weren't hungry enough, but what a nice man!
The day ended early because R got a rear puncture. We tried to fix it 3 times but it kept failing again and so as we were right by an easy camping option (so many olive fields, so easy to camp) we just pulled his bike and bags into the field and set up camp.
HS loves fire. His normal stove failed back around Turkey so since then has been just making regular fires to cook his dinner.
HS also loves cooking, and makes delicious noodles and pasta.
R had said he'd wake up early to get the puncture fixed, but that didn't happen and so after another hour of waiting and the puncture still not being fixed we came up with a new plan. Hitch a lift. R seemed to think it'd be best with all of us together, but finding a lift for 3 seemed a terrible idea and so myself and HS continued on by ourselves. R had plenty of hitchhiking experience, that's how he'd been travelling for the previous